Commuter Connection
10/09/19
Commuter Connection
Student Free Transit Pass Program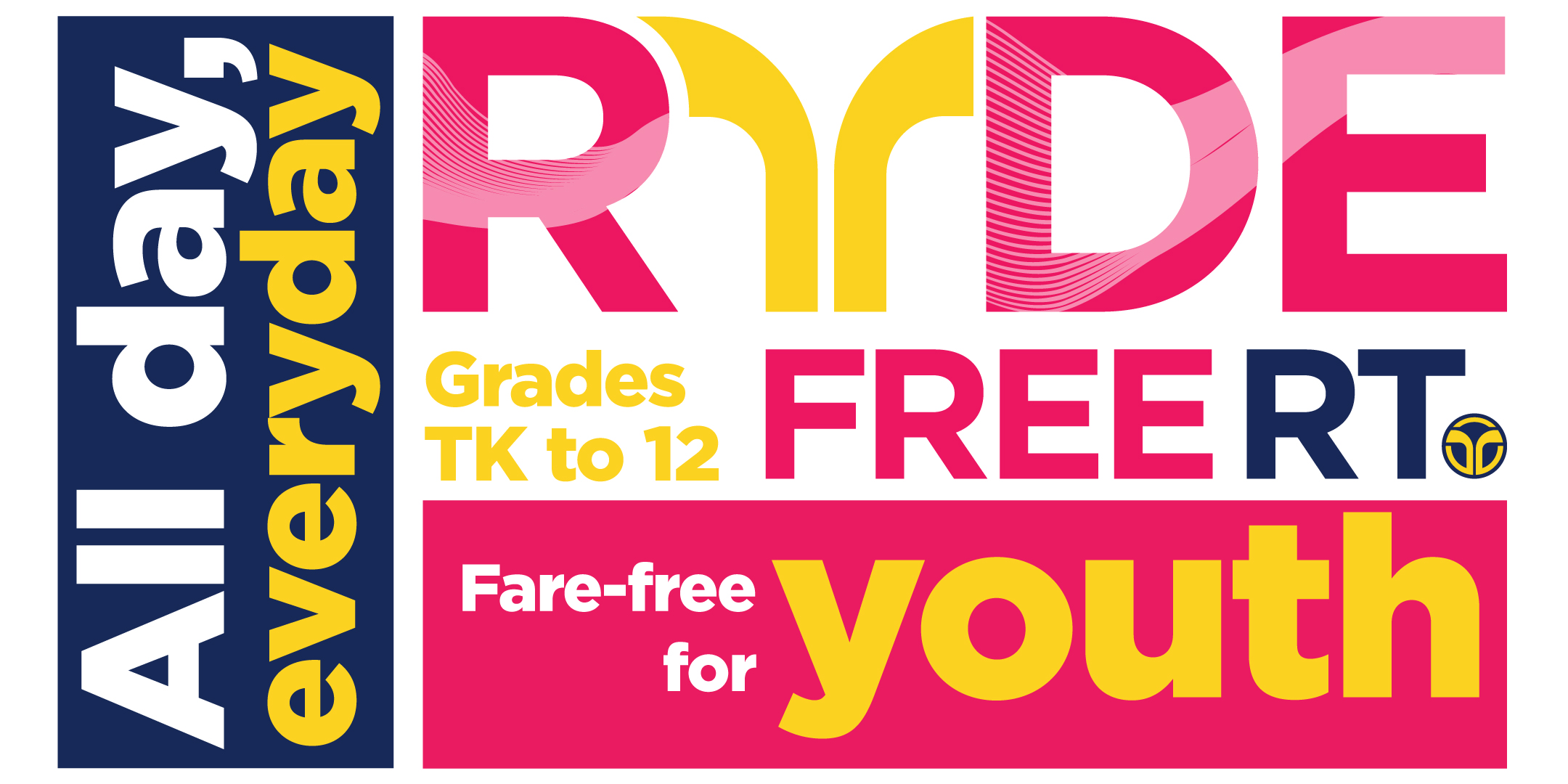 SacRT has partnered with the City of Sacramento and other cities and school districts within our service area to offer free fare for students in grades TK through 12 to ride SacRT bus and light rail vehicles. All students within SacRT's service boundaries are eligible for the RydeFreeRT program. More Info
---
Capitol SouthEast Corridor Connector Project
The Capital SouthEast Connector Project is a 34-mile expressway through the southern area of Sacramento County into El Dorado County. The expressway would connect Interstate 5 to Highway 50 by enabling drivers to bypass downtown Sacramento. The project is being managed by the Capital SouthEast Connector Joint Powers Authority (JPA) and includes the cities of Rancho Cordova, Elk Grove, and Folsom, and El Dorado and Sacramento Counties.  More info
---
Highway 50 and Zin

fandel Drive Interchange

Improvements
The Highway 50 at Zinfandel Drive interchange and certain on and off ramps will be closed overnight on October 14 and 15 between 11 PM and 4 AM when bridge girders are installed. Detours will be established along Folsom Boulevard and Mather Field Road. This project is designed to improve operations, alleviate congestion and provide safer routes for drivers, bikers and pedestrians on Zinfandel Drive from White Rock Road to Olson Drive. The upcoming work schedule and any anticipated impacts are being posted regularly to the Rancho Cordova's Current Projects webpage.
---
The Rod Beaudry-Routier Project Is Complete
There are now protected bicycle lanes along Routier Road and Rod Beaudry Drive, connecting neighborhoods from Lincoln Village to the American River Parkway. This project not only provides cyclists with a safe and convenient route but helps promote alternative transportation methods in Rancho Cordova. Watch this video to learn more.
---
US 50 Placerville Recreational Travel Hot Spot Study 
It's a bit of an understatement to say there are traffic problems on US 50 through El Dorado County. El Dorado County, the City of Placerville, residents, businesses, and recreational travelers have long faced a seemingly insurmountable challenge of heavy traffic congestion on US 50 from the western edge of Placerville to South Lake Tahoe.  


To improve challenging traffic conditions, Caltrans District 3 is partnering with the El Dorado County Transportation Commission (EDCTC) to take a fresh look at the problems through the Recreation Travel Hot Spot Transportation Management Study.  Visit the project webpage
---
Sunrise Boulevard Rehabilitation Project
The City of Rancho Cordova is proposing the Sunrise Boulevard Rehabilitation Project in your area. The proposed project includes road paving and traffic signal modifications on Sunrise Boulevard from Folsom Boulevard to White Rock Road, widened sidewalk on the east side of Sunrise Boulevard between Citrus Road and the Folsom South Canal, and striped bicycle lanes on Citrus Road. The proposed project is designed to continue to improve transportation, accessibility and safety for drivers, bicyclists and pedestrians in the area. Click here for a project map.
---
Free $5 to Ride with a Lyft at SacRT in Rancho Cordova
With the support of a $75,000 grant from the Sacramento Area Council of Governments (SACOG), the City of Rancho Cordova is partnering with Lyft to launch a pilot program to encourage Sacramento Regional Transit District (SacRT) ridership in the City by helping to reduce transit access barriers.
The new pilot program, called "Free $5 to Ride," provides SacRT riders with a Lyft coupon code (RCFREE5) worth up to $5. The coupon code can be used toward a Lyft ride that begins or ends at one of the four SacRT light rail stations in Rancho Cordova, up to 60 times per month. The concept is predicated on providing commuters traveling to and from Rancho Cordova via SacRT with alternatives to first mile/last mile connections, reducing the need to drive alone and ultimately increasing transit usage. More info
---
See Something, Say Something
The City of Rancho Cordova, City of Folsom and Sacramento County have made it easy for cyclists to keep our infrastructure bicycle friendly.
These mobile apps let you report cycling hazards when you see them, whether its trash in the bike lane, a pot hole or a need for better signage. Download these apps and be ready to click and report the next time you see something that needs attention.
---
Bike & Community News
10/09/19
Bike & Trail News
Folsom Community Service Day Success!
A big thanks to the 3,000+ volunteers who completed more than 70 service projects throughout Folsom on the 6th annual Community Service Day!
---
Blue Ravine Cycle Track
The Blue Ravine cycle track was completed in August and parallels Blue Ravine Road between Manseau Drive and Arrowsmith Drive. It provides a connection between Elvie Perazzo Briggs Park and the surrounding neighborhoods to the Oak Parkway Trail. The two-way bicycle path is at street grade, and white plastic bollards visually mark and separate it from vehicle traffic. More info
---
Oak Parkway Trail Undercrossing has reopened (East Natoma, Folsom)
The Oak Parkway Trail Undercrossing has reopened.  This new addition to Folsom's recreational trail system tunnels under East Natoma Street near Prison Road to provide a seamless and safe route for pedestrians and cyclists to transition between the Oak Parkway and Johnny Cash Trails. Construction on the Oak Parkway Trail Undercrossing began in October 2018; the project was funded with monies from state and federal grants and the City of Folsom.  More info.
---
Support Cycling Programs in California, buy the BIKE PLATE!
Your purchase of the California Bike Plate will generate grants to promote cycling as a physical activity, fund bike skill development and nutrition education at the elementary school level and create safe places to ride through cycling advocacy. More info
---
Mile Marker 16.5 Trail Re-Route Complete
Crews have removed all equipment, and the project is 100% complete, ahead of schedule. We hope you enjoy the fresh trail!
---
Construction has begun on American River Bike Trail along North Lake Natoma
The Bureau of Reclamation and California State Parks temporarily closed a segment of the American River Bike Trail to remove debris and enhance public safety near the Orangevale Bluffs. More info
Reza Moghissi, Sacramento County Department of Transportation and Sue Fry,  50 Corridor TMA.
---
Folsom South Trail Improvements Phase II
Project description - The Folsom South Canal was built in the 1970s as part of the Central Valley Project (CVP). A total of 26.6 miles of the canal were constructed, running roughly north and south from Lake Natoma to approximately 1.3 miles south of Twin Cities Road (SR 104). Paved maintenance roads straddle the canal. Since its construction, the west side maintenance road between Hazel Avenue and Sloughhouse Road, a distance of approximately 14 miles, has also served as a multi-use path. The project will include a pedestrian bridge, asphalt patching and surfacing, pavement markings, and signage. More info.  Before picture
---
We are excited to report Bike Share is coming soon to Rancho Cordova and Folsom with 

Gotcha bikes

. 
Gotcha empowers communities to lead happier, more productive lives through alternative forms of transportation specifically designed for each market served. Gotcha currently operates more than 50 shared e-mobility systems in cities and universities across the US. For more information, visit www.ridegotcha.com.
To initiate a rental, riders need to download the Gotcha app in the Apple App Store and Google Play Store and create an account. Riders can locate a bike within the app on the map, unlock, and start cruising.