Commuter Connectrion
6/01/19
Commuter Connection
Highway 50 and Zinfandel Drive Interchange Improvements
Construction on Highway 50 and Zinfandel Drive Interchange Improvements is anticipated to begin the week of June 17, 2019, weather permitting. The project will add an additional lane on Zinfandel Drive over Highway 50, modify the highway entrance and exit ramps, add bicycle lanes and modify traffic signals. This project is designed to improve operations, alleviate congestion and provide safer routes for drivers, bikers and pedestrians on Zinfandel Drive from White Rock Road to Olson Drive, referred to as the Zinfandel Complex. Click here for a project map.

The project is anticipated to be completed by March 2020, weather permitting. Project construction will take place Monday-Friday between 8 AM-5 PM, and some night work will be incorporated. Stay tuned to this webpage for schedule updates.

Please expect traffic delays during construction, drive, bike and walk with caution, and reduce speeds in construction areas. Detours will be in place during the night work portion of the project.
---
Free $5 to Ride with a Lyft at SacRT in Rancho Cordova
With the support of a $75,000 grant from the Sacramento Area Council of Governments (SACOG), the City of Rancho Cordova is partnering with Lyft to launch a pilot program to encourage Sacramento Regional Transit District (SacRT) ridership in the City by helping to reduce transit access barriers.
The new pilot program, called "Free $5 to Ride," provides SacRT riders with a Lyft coupon code (RCFREE5) worth up to $5. The coupon code can be used toward a Lyft ride that begins or ends at one of the four SacRT light rail stations in Rancho Cordova, up to 60 times per month. The concept is predicated on providing commuters traveling to and from Rancho Cordova via SacRT with alternatives to first mile/last mile connections, reducing the need to drive alone and ultimately increasing transit usage. More info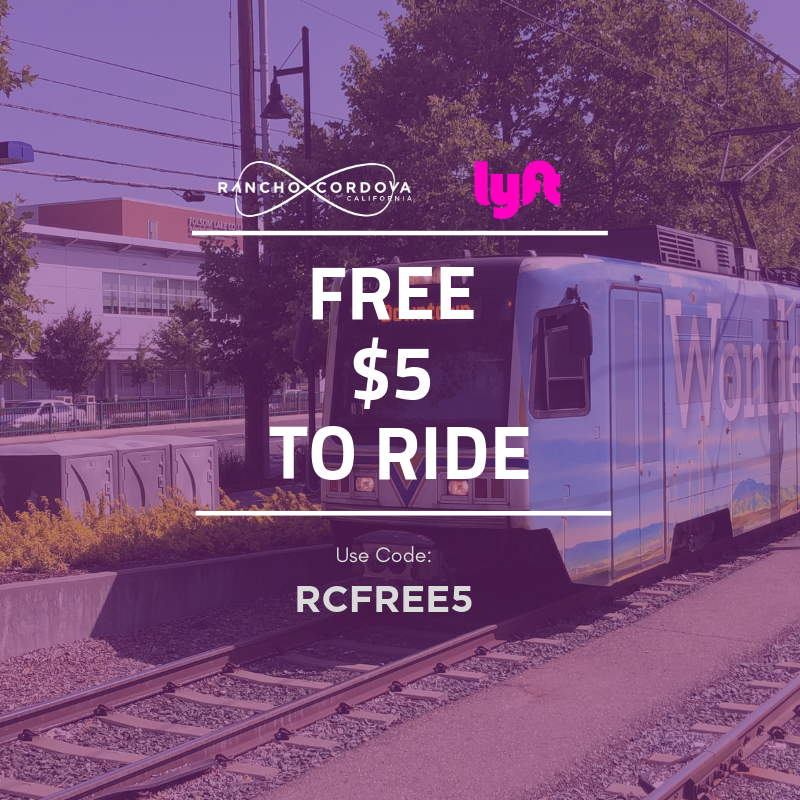 ---
See Something, Say Something
The City of Rancho Cordova, City of Folsom and Sacramento County have made it easy for cyclists to keep our infrastructure bicycle friendly.
These mobile apps let you report cycling hazards when you see them, whether its trash in the bike lane, a pot hole or a need for better signage. Download these apps and be ready to click and report the next time you see something that needs attention.
---
We are excited to report Bike Share is coming soon to Rancho Cordova and Folsom with

Gotcha bikes

. 
Gotcha empowers communities to lead happier, more productive lives through alternative forms of transportation specifically designed for each market served. Gotcha currently operates more than 50 shared e-mobility systems in cities and universities across the US. For more information, visit www.ridegotcha.com.
To initiate a rental, riders need to download the Gotcha app in the Apple App Store and Google Play Store and create an account. Riders can locate a bike within the app on the map, unlock, and start cruising.
May is Bike Month
50 Corridor MIBM Tote Board 
     Total Trips - 11,421 logged to date
     Total Miles - 142,596 logged to date
************May is Bike Month Events************ 
May 31, 2019:  50 Corridor Celebration Ride and Dinner! Julie talking safety before the ride. May 26, 2019:  Johnny Cash Ride –This ride
canceled

due to rain and wind.
May 22 2019:  Bradshaw Complex - Sacramento County Ride
May 19, 2019:  Ride the Parkway ALERT!  This ride has been rescheduled to

October 6, 2019

due to rain.
May 16, 2019:  Sacramento Region Bike to Work Day  - Bike Month 'Bago' at Intel
May 15, 2019:  Iron Point Corridor Ride! - Thanks to the riders that came out in the rain!
May 15, 2019:  Mather Commerce Center Ride! 

May 9, 2019:  Another Great Mayor's Ride! 
May 1, 2019:  May is Bike Month Kick-off Ride Participants!  

Pop-up at Karen's in Folsom